Direct a garden lover's gaze
Whether it's one fish or an entire school, you will be sure to not only delight observers, but these unique garden sculptures will also inspire conversation with visitors or even the passerby. The naturally curved tail, meant to bring a fluid aesthetic to your garden, will encourage the eye to follow the movement of your landscape, drawing attention to every aspect of your space. With both right and left tail directions available, see how the fish curve in response to the more permanent elements of a garden with the feeling of a perfect fit within the natural flow of their environment.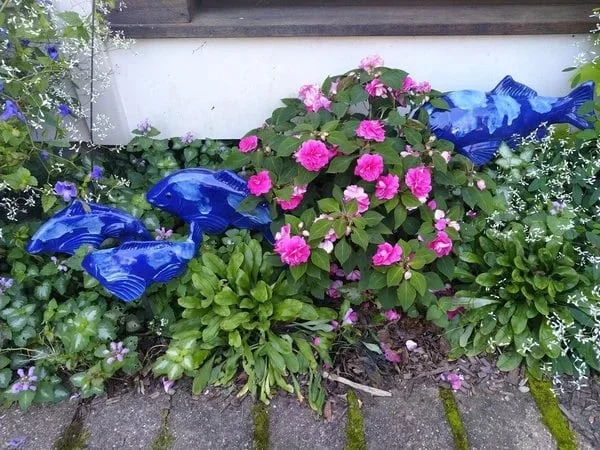 For all climates and spaces
Durably made in Maine, these stunning creations come in a selection of colors certain to enhance any environment and can withstand any weather conditions. Go ahead and enjoy a burst of color in your winter wonderland. Bring a dry creek bed to life with a playful school meandering through. Create your own underwater haven or enhance your serenity fountain with these completely submersible works of art. Whatever the temperature, weather conditions or location, rest assured your fish are safe and guaranteed to endure what nature throws at them without fading or cracking.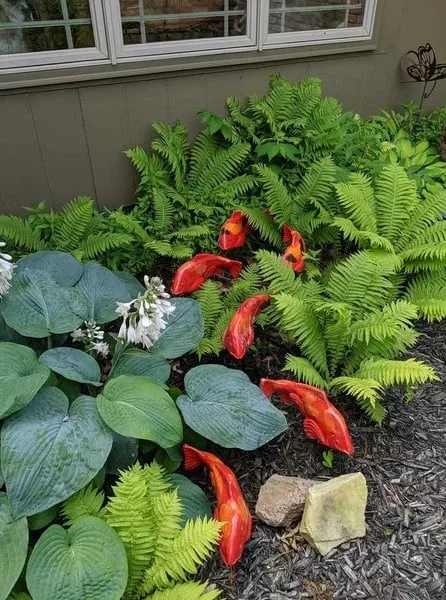 For all occasions
Fish In The Garden's unique fish art garden ornaments are the perfect gift for any occasion. A creative gift idea, these fish are both unexpected and absolutely delightful! Be the giver who conquers the most difficult to shop for person with this truly unique garden art. Whether you're giving this special gift to a garden enthusiast or to your favorite city dweller, these fish will evoke a sense of joy and serenity wherever they are planted (and will earn you the coveted "best gift award" – you're welcome)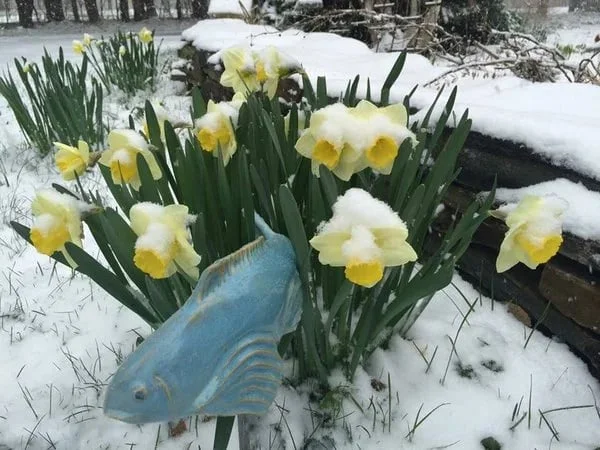 Start with a set of three – one with two tails, one with tails – and add as many fish as you want to create a colorful school.
Go through the bottom hole of the hollow fish and wedged firmly into the top fin, so the fish stays at the angle of your choice, recommended for groups of 3 or more to move and flow. Says the artist who designed and made these fish: One is a fish on a stick. The second is cute and romantic. Three or more will create flow.
Dimensions: 16*7.5*5.5
Mount these fishes anywhere in your landscape: garden, front or back yard, flower bed, lawn, farm, patio, along a pathway. No matter day or night, no matter what the weather, enjoy the pleasure it brings you every day of the year. It is a meaningful gift for Thanksgiving Day, Christmas, Birthday, Father's Day, Mother's Day, Black Friday, Wedding anniversary, Housewarming, Holidays, and any day worth celebrating and commemorating.