FEATURES
Pressurized Water: The booster shower head can be pressurised to produce an increased pressure flow and deliver water at a higher speed, making your showering experience even more enjoyable.
Three Shower Modes: Our shower head has five adjustable shower modes with a button for water output, which is simple and convenient to use: shower mode, mixed mode and pulse mode.
One-key Stop Water: Humanized design, Shower head have a ON/OFF Switch. Just press the switch on the nozzle handle to stop the water flow at any time.
Fine Rain Bionic Design: The shower head has a large outlet surface with fine holes and a fine splash that does not sting the skin.
Fine Silicone: Our shower heads are long-lasting and will not leak, and can be cleaned with a gentle flick.
Filter element: Our showerhead uses a unique ionic filtration system, which filters your water through Filter element that do an incredible job at removing the gunk from your water while also increasing the pH value before it even reaches your body, which enriches the water and hydrates your body.
Punch-free Shower Holder: Clean and dry the wall that needs to be pasted,and tear off the film behind the shower seat press a few times after sticking, just eliminate the air inside.
Adjustable: This shower holder can adjust the angle when you are showing, and it holds different style handheld shower heads.
Applicable: The Adhesive Shower Head Bracket is suitable for a variety of Smooth Marble, Metal Surface, Plane Ceramic Tile, Smooth Glass. Please DO NOT put it on the textured tiles, concave tiles, frosted glass, or rough wood.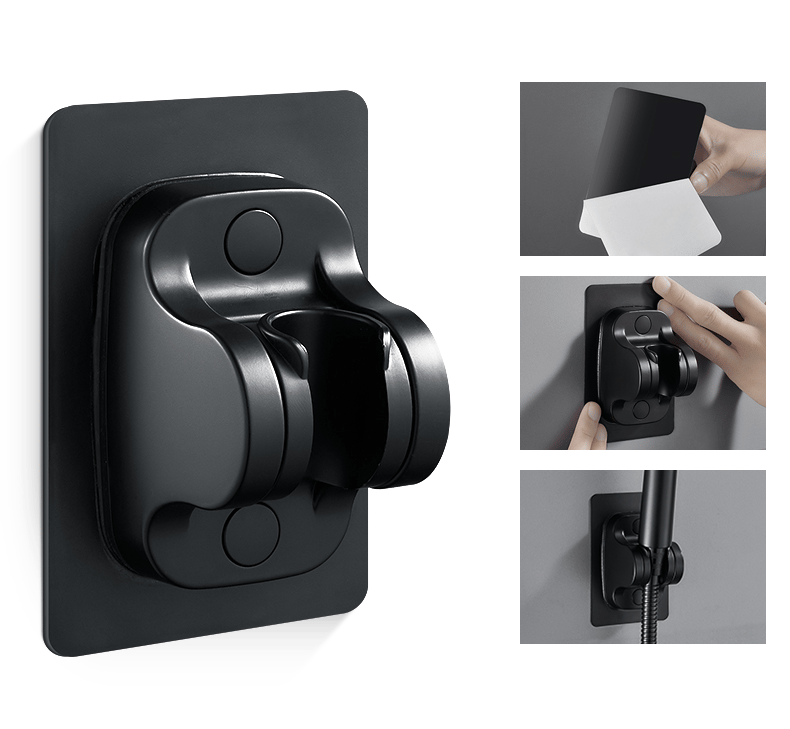 Easy to Uses: Handheld washower head adopts G1/2 international standard interface, suitable for most hoses and brackets or shower attachment arms, It can be installed by itself without the use of plumbers and tools.
SPECIFICATIONS
Item Type: Houseware
Occasion: Home
Style: Modern
Material: ABS
Color: Black
Length of hose: 1.5M/59inch
PACKAGE
1* Multi-functional High Pressure Shower Head / 1* Shower head + 1* hose /1* Shower head + 1*holder / 1* Shower head + 1* hose + 1* holder