No Electric Needed
The Brush Head with built-in gear can spin 360 degree automatically to wash your car under water flowing pressure.Just push the brush gently around all the places you want to wash.Great Energy Saver!
Long Handle & Soft Bristles: With detachable poles, the cleaning brush can be extended into 39.4 inch to helps you to clean car top, sides areas and corners. No need to bend over or tiptoe now! The car wash brush with soft and durable Chenille microfiber bristles, scratch-free for your car paint.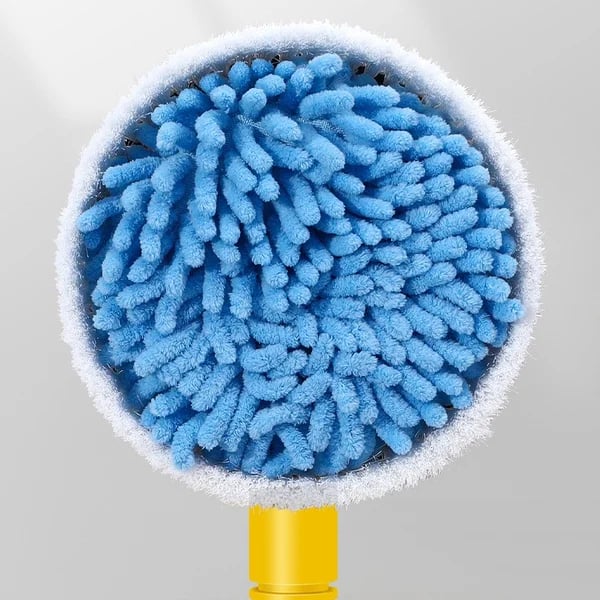 Spinning Car Wash Brush with Soap Dispenser: Powered by water flow, the car washing brush with soap dispenser can rotates 360 degree to deliver foam to car exterior, provides the fastest and easiest way to clean all automotive surfaces, no scrubbing required, simply push the cleaning brush to any surfaces you want to clean, removes dusts and stains with ease!
Water Flow-thru Car Wash Brush Mop: With a standard garden hose connection and an on/off valve, simply connect to your 1/2 inch garden hose and faucet, then wash it now! No car wash bucket required, No need to run back and forth to turn off the faucet. Really Time & Energy Saver!
Used As A Garden Hose Nozzle Sprayer: Detaching its brush head, you will get a handheld garden hose nozzle gun, perfect for washing your car, yard, gutters, home and anywhere… Watering Your Garden, Lawn, Grass, and Flower Beds. It's also great for Washing Dogs, and Pets.
Don't settle for a dirty car any longer. Upgrade to the Self-Spinning Car Wash Mop today and enjoy a faster, easier, and more efficient way of getting your car sparkling clean!
Specification:
Name: Self-spinning Car Wash Mops
Brush Material: Chenille Velvet
Outer Brush Material: PP
Hydraulic gears: Three Gears Adjust
Multi Funtional Use: Car washing, floor washing, window washing, etc.
Softness: Soft