Take advantage of our NEW knee brace with a SIDELOAD spring feature allowing less load pressure behind the knee.
We have also added a new 3-point adjustable spring load tension button that can increase or decrease how much pressure is put onto the spring.
Will these fit my knees?
Yes! One size will fit most legs. The length of the brace and both upper/lower straps are fully adjustable. The circumference is 34 inches, and the straps are a flexible material that can fit leg sizes over 34 inches.
Do they hurt?
Our braces can be worn comfortably under or over pants without giving you a rash or burning sensation behind your knees.
WHY DO I NEED THIS?
Would you like to stand easier, walk lighter, run faster, jump higher, and lift heavier than ever before?
The Shift Knee brace function as a shock absorber for your legs and knees, allowing you to bounce back to life and spring into action.
The brace provides optimal support and stability for those with knee pain, sprains, and strains, including ACL/MCL injuries, inflammation, soreness, and tendinitis.
Don't have knee pain? Let's keep it that way! The brace protects your knees and enhances your power like never before. It's not just a recovery tool, it's a performance tool.
FEEL THE DIFFERENCE IMMEDIATELY
The Power Knee Joint Support lightens up to 40kg (88 lbs) of pressure from a person's own weight. It's like walking on the moon. Your legs have never felt so light.
Standing up has never been so easy. Put the pep back in your step and enjoy the freedom to go anywhere and do anything.
Proven to reduce knee pain and improve performance within 30 days
FOR ATHLETES, GRANDMA, AND EVERYONE IN BETWEEN
Do you play sports or engage in physical activity? Lift heavy things on the job or around the house? Sit or stand for long periods of time? Or just want to be Superman?
The Power Knee Joint Support is designed for all ages, genders, and body types, including those with and without pre-existing knee problems.
Wear it anywhere: working, exercising, driving, walking, running, hiking, gardening. Your imagination is the limit.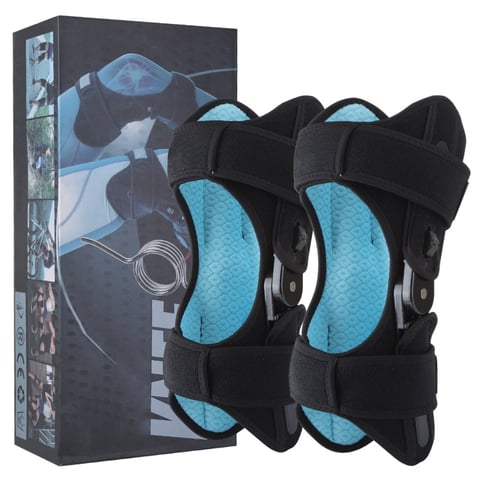 REVOLUTIONARY DESIGN
The Power Knee Joint Support is the world's first knee brace that uses a spring-loaded system to provide significantly enhanced lifting power.
Engineered with breathable, moisture-wicking, non-slip technology, you'll never have to worry about the brace shifting or itching.
Designed with infinitely adjustable FlexFit straps to perfectly fit any knee size, no matter how big or small. Comfortably wear it under or over your pants.
HOW TO USE
Package Includes:
1 pc/ 2pcs Knee Support Brace
Material: ABS+EVA+Hsinchu cloth+OK cloth (black)+velvet (gray)