Introducing Blitz Pop: The Ultimate Breakout Popping Game
Experience the thrill of the classic fidget bubble popping game like never before with Blitz Pop. This revolutionary electronic toy takes the addictive sensory experience to new heights with mesmerizing popping sounds and captivating light effects. Get ready to embark on a fast and fun popping adventure!
Get Ready for Popping Fun with Blitz Pop
This revolutionary breakout game transforms the classic bubble popping experience into a fast and addictive electronic toy. With mesmerizing effects, four game modes, and a compact design, Blitz Pop delivers endless entertainment for all ages. Join the popping revolution and unleash the excitement today!
Four Exciting Game Modes
Blitz Pop offers a variety of game modes to keep you entertained for hours. Challenge yourself with Scoring Mode, test your memory skills in Memory Mode, engage in friendly competition with Pass Mode, or gather your friends for epic multiplayer battles. With four different game modes to choose from, there's always a new and exciting challenge awaiting you.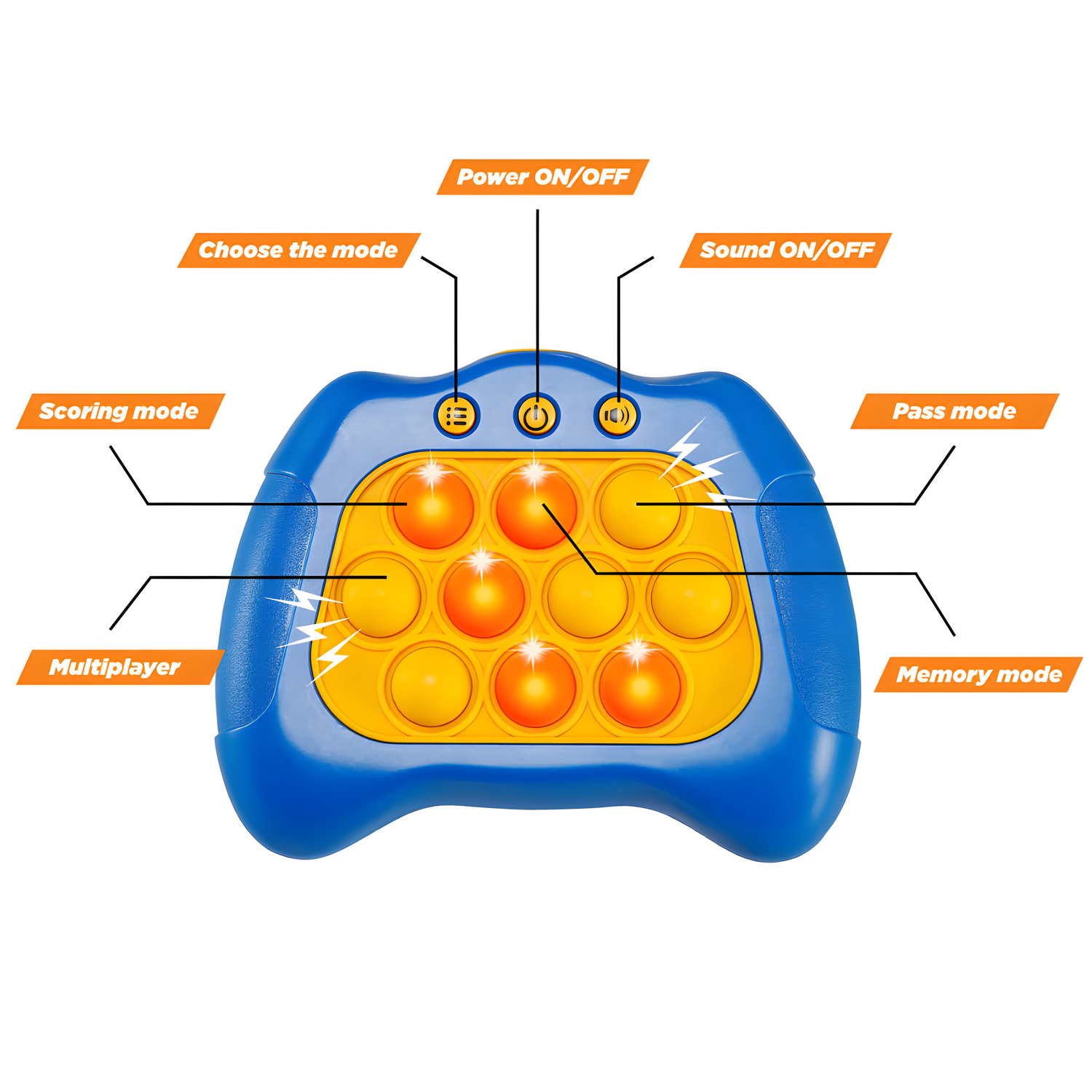 Vibrant and Interactive Design
With its vibrant colors and interactive gameplay, Blitz Pop is a visual delight that will captivate players of all ages. The colorful design adds an extra layer of excitement to the popping experience, making it a truly engaging toy. Get ready to immerse yourself in a world of popping fun!
On-the-Go Fun
Take the Blitz Pop with you wherever you go! Its compact design and lightweight construction make it the perfect travel companion. Whether you're heading to a friend's house or going on a family vacation, this portable toy easily fits into totes and bags. Say goodbye to boredom during long journeys or waiting times-Blitz Pop ensures non-stop entertainment on the move.
Sensory Fun for All Ages
Blitz Pop isn't just for kids-it's a stress and anxiety relief toy suitable for all ages. Whether you're a teenager, adult, or elderly, you'll find comfort and relaxation in the satisfying sensation of popping bubbles. It's an ideal toy for various parties, activities, and family gatherings. Create lasting memories as you engage in friendly competitions and enjoy quality time together.
Simple and Intuitive Operation
With Blitz Pop, there's no need for complicated instructions or complex setups. Our user-friendly design allows you to dive right into the popping action with ease. Simply press, release, and feel the satisfying sensation as the bubbles burst. Whether you're a seasoned pro or a first-time player, Blitz Pop guarantees instant gratification and endless popping excitement.
Built to Last, Popping After Popping
We understand that durability is crucial for a toy that's meant to be enjoyed over and over again. That's why we've crafted Blitz Pop with meticulous attention to detail and quality materials. Our electronic toy is built to withstand the vigorous popping sessions of enthusiastic players. From its sturdy construction to its resilient components, Blitz Pop is designed to endure countless hours of popping fun without losing its charm.